Myopia Awareness Coalition holds inaugural event to create awareness of the childhood myopia epidemic
On June 19tha group of 33 eye care industry leaders met in Denver to discuss how to raise public awareness of the eye health risks associated with childhood myopia (nearsightedness). Named the "Myopia Awareness Coalition", attendees represented manufacturers, retailers, insurers, equipment manufacturers, eye doctors, researchers and a consumer advocate, all stakeholders in addressing this important and growing issue. It was exciting to see the passion in the room, with leaders coming up with ideas to promote more public awareness directly, through industry, through government and non-government organizations.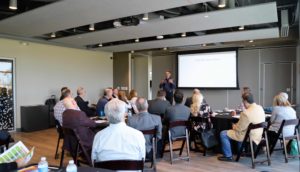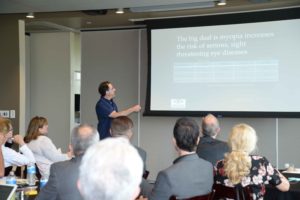 One output from the group was an exercise facilitated by Bart Foster of Sanitas Advisors that focused on the future, titled "What is inevitable in myopia in the next 5-7 years?" While there were nearly 100 ideas, the top 10 from were:
Myopia rates, especially childhood myopia, will continue to rise and become a more mainstream health care issue that will get the attention of the media and others outside of the eye care industry.
The FDA will approve devices and/or ophthalmic treatments to stop or slow the progression of myopia, as has already happened in many other countries.
Asian countries, where myopia rates are the highest, will lead in raising awareness of this issue and in coming up with solutions.
Myopia will be recognized and classified as a disease vs. just a refractive error.
Research currently underway such as the study of genetic markers will give us a better understanding of the causes of myopia.
A "crisis moment" will happen where the legal risk of not treating myopia will force eye doctors to be more proactive in treating myopic children.
Companies currently outside of eye care will recognize the opportunity and bring disruption on the product and/or service side of myopia treatment.
Screen time for children will become even more controversial, with competing forces pushing for more educational use of technology vs. concerns over addiction, myopia and the social/behavioral impact of screens on children.
More advanced products will be available for myopia treatment with longer-term safety and efficacy data.
Childhood eye exam and screening guidelines will be revised and lead to better and earlier vision testing for children to identify myopia.
Coalition members universally agreed on the importance of partnering with existing organizations such as the World Health Organization, Prevent Blindness, the American Optometric Association, the American Academy of Ophthalmology and many others globally to coordinate efforts to educate the public on myopia and secure resources for further research into this critical area. A key insight from the group was that we currently have no singular, easy to understand message from these various organizations about the importance of identifying and treating myopia. Matt Oerding, CEO of Treehouse Eyes, shared a case study on the dental market and how the American Dental Association and industry partnered effectively to change attitudes of U.S. consumers about the importance of oral health and regular dental visits.  There currently is no focused campaign in eye care of this nature globally, though in countries like Singapore great progress has been made to align messaging and resources to address the myopia issue.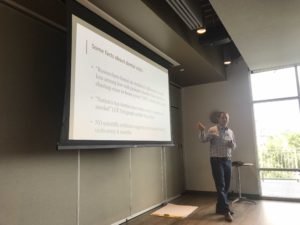 Mike Hundert, Chairman of the Vision Council, facilitated an ideation session with groups developing ideas to raise awareness of myopia. Out of the more than 50 ideas developed, groups worked to prioritize their top ideas.  These fell into three major categories:
Direct to consumer awareness building campaigns
Public relations efforts, school screenings, social media and influencer campaigns were all put forward as strong ideas. During the group discussion the coalition agreed on the need to develop simple and memorable messaging for any campaign that is aligned across various stakeholder groups.
Government lobbying efforts
Many ideas centered on more effective government engagement to drive funding for research and advocacy in the myopia arena. Given the scope of myopia and increased understanding of associated eye disease risks, the coalition agreed on the need for a coordinated approach to engage governments on this issue, preferably through existing organizations.
Education to eye care professionals
More education of eye care professionals is needed to drive greater engagement and discussion with parents about the risks of myopia. Alignment between optometry and ophthalmology was identified as critical to influence other health care providers such as pediatricians, as well as increasing efficacy of lobbying efforts. While education of the profession has increased in recent years, more needs to be done  including more focus at professional association meetings.
Dr. Gary Gerber, Chief Myopia Reduction Officer of Treehouse Eyes, led the last session focused on translating ideas to action. Groups worked through the top ideas to think through how they could be executed, what resources would be required and specific next steps needed to move towards successful implementation. Several stakeholders were identified, such as the American Optometric Association and Brien Holden Vision Institute, that need to be engaged to align on an action plan. Several executable ideas rose to the top for the group, including creating a "Myopia Awareness Week" in the U.S. with elements of public outreach and education, health care provider education and government engagement to deliver a focused first step effort at tackling this challenge.
One clear outcome from the meeting was an acknowledgement of the scope of the challenge. The coalition recognized they must develop clear and consistent messaging to be delivered by all key stakeholders involved in eye care, and coordinate those efforts across industry, professional associations and other health care groups to have a profound impact.
Ron Walker of AllAboutVision.com commented on the meeting, "This is a big job, and getting the stakeholders into collaboration mode is a great start." The group agreed to review the ideas discussed and assign key actions to stakeholders who want to help drive this forward. Discussions with several industry groups are already underway to discuss the outcome from the meeting, and work to gain support and commitment to work together on the top ideas developed by the coalition members.  Fortunately, the eye care industry is large and well resourced, so a well-coordinated effort focusing on the coalition's agreed upon most critical ideas will have a significant impact to raise public awareness of the childhood myopia epidemic.