The documentary Screenagers is a wonderful and practical look at how kids today are growing up. The movie was produced by a mom and doctor who was worried about her own children and the impact screen time was having on them. She decided to research the issue to learn the facts for herself, and the documentary follows her journey as she interviews experts and meets with school administrators, children and other families dealing with the challenges of this digital age.
For our team at Treehouse Eyes, screen time is an important topic because most researchers believe less outdoor time and more time reading and on devices is changing how children's eyes develop. The incidence rate of myopia (nearsightedness) in children is up 66% in the last 30 years, and now impacts over 13 million U.S. kids. Not only does this mean stronger glasses for these children, increasing myopia also increases their risk of serious eye diseases.
We were excited to sponsor a viewing of Screenagers last week at Washington Episcopal School in Bethesda, MD. Over 80 people braved a cold December night to pack into the gym to watch the film. Our co-founder, Dr. Gary Gerber, introduced the session and after the film was over a panel led by pediatrician Dr. Victor Abdow and school administrators answered questions from parents. Every parent struggles with these digital-related questions: when do I let them have a smartphone? how do I control it? how do I balance trust with accountability? Our discussion after the film was robust, with a lot of great ideas shared by parents and Dr. Abdow.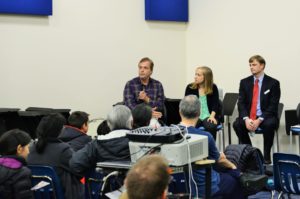 Thank you to Washington Episcopal School for working with us to educate parents about screen time and offer practical tips to help their families. It also gave us a chance to continue educating parents about the rise of myopia and new options to treat it. If you have a child wearing glasses, go to TreehouseEyes.com to learn more about what you can do now to give your child a lifetime of better vision and healthier eyes.