Every month another study points out the correlation between the childhood myopia epidemic and one of its more likely causes – the lack of outdoor time for kids as they grow up.
One recent study in China followed 2,000 first-graders for three years, finding that the children who spent more time outside were 23% less likely to develop myopia. Although that study didn't look for why spending time outdoors reduces the likelihood of myopia onset, other studies have suggested that sunlight affects eye growth in ways that inhibit myopia.
Still other studies have suggested that kids who spend more time playing outside – instead of time staring at screens indoors – could benefit from the activities kids play outside, where the eye is continually focusing on objects at varying distances.
As parents, we know the challenges of creating more outdoor playtime. Our kids are over-scheduled. They have more homework than we did, much of it increasingly on screens. They become quickly hooked on screen-based diversions. (In future blog posts we explore the role of too much screen-time as another probable cause behind the myopia epidemic). For many of us, there's just not enough outdoor places that are both convenient and safe for our kids to play freely.
At Treehouse Eyes we're witness every day to the effects of so little outdoor play for this generation growing up indoors with their screens.  When we first meet with parents and their kids, one of the most important recommendations we make is for their children to get out and play. We tell them about organizations like Kaboom, which works with cities, towns and community organizations to promote "playability" at every opportunity of a family's hectic day.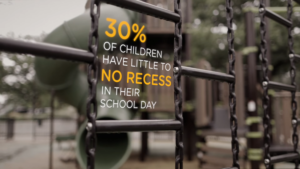 Kaboom's research around the current generation's lack of outdoor play is sobering. Stats like only one in four kids in the US enjoys 60 minutes of active and balanced play each day. Or even more troubling, 30% of US children have little to no recess in their schools.
We invite you to checkout Kaboom's website for more info on the crisis of growing up indoors and what we can do for our families and for the communities in which we live. Here's one of their inspiring videos to view and share with other concerned parents.  To learn more about what you can do for your nearsighted child instead of just getting glasses, we invite you to contact us here to discuss the revolutionary treatments for slowing and stopping myopia at Treehouse Eyes.