In the spring of 2015, Optometry Today released a short video called the 'Current State of Myopia Control', featuring noted myopia researcher and specialist Dr. Noel Brennan.
In the video Dr. Brennan explains why myopia control will transform the way optometrists practice in the future, as well as the different methods which are already being used to treat and tackle the condition.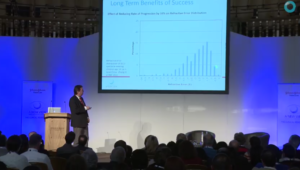 The key take-away of the video is as simple as it is startling – we've reached a point in the science of vision care where we no longer focus on "correcting the symptoms of myopia but we are now actually attacking the disease."
Dr. Brennan drives home the essential point that there is a related increased risk of eye disease with increasing levels of myopia. He suggests, as do almost all researchers working in the field, that optometry is now in a position to not simply treat and control myopia, but by doing so significantly reduce the occurrence of eye disease itself.
Other key highlights from the informative and inspiring video include:
myopia progression isn't just an inconvenience, but a significant long-term health threat for everyone on the planet.
as the myopia epidemic continues to rage, so too will the resulting increase in serious eye disease.
there's no safe amount of myopia, optometry's job is to keep people as low as we can.
in the very near future the standard of care for any person with myopia will be actual myopia control.
As our patient parents know, that standard of care is already here at Treehouse Eyes. We highly recommend parents of children with myopia watch and share this video with other parents, and contact us here to learn more about myopia control for your child by scheduling an assessment at Treehouse Eyes.