One of the most important organizations tracking vision health in the US is the American Academy of Ophthamology. Their journal and website provide an immense resource for both patients and health care professionals.
In a recent issue of their journal they reported on a 5-year follow-up from one of the most important studies produced to date in myopia control research – the Atropine for the Treatment of Myopia (ATOM) 2 study.  Here's a link to their journal article.
As you can see from their coverage, they show how the ATOM2 study "now covers a 2-year initial phase using 0.5%, 0.1%, and 0.01% atropine, a 1-year washout period, and a further 2 years of treatment with 0.01% atropine in those who progressed more than 0.5 diopters (D) in the washout year."
They note that the follow-up article "shows that 0.01% atropine produces better reduction in progression than higher doses, with marked reductions in the short-term side effects that required the use of photochromic reading glasses with higher doses and with marked reduction in the rebound effect that is observed during washout after higher doses. Longer-term follow-up is still required, but this represents an important step forward".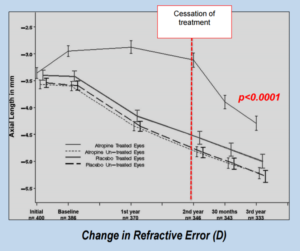 These are important findings and the AAO Journal article underscores this noting, "Control of myopia progression has become an important clinical goal because of concerns about the significantly increased risks of pathologic myopia in those with high myopia."
We at Treehouse Eyes know well both the elevated risk of eye disease correlated with myopia as well as the promise of atropine within a treatment regimen for myopia control. We measure and are gratified by the incredible results every day from our young patients' progress during and after myopia control treatment.  Here's a link to the ATOM2 study document (in PDF) for our physician colleagues as well as interested patients and general public researching the opportunities for slowing and stopping myopia in the population of affected youths.
For more information on the treatment protocols within our Treehouse Vision SystemTM visit our page here.