This past week, Jocelyn Brown, Founder and Editor of Hip Mama's Place paid us a visit at our Tysons Corner Treehouse Eyes offices and met with Dr. Kevin Chan. They spoke about the myopia epidemic and the serious health challenges it presents to local families with myopic kids. Families like Jocelyn's, who, from her story published this week in Hip Mama's Place, says, "As a parent with a child who suffers from blurry vision, I am always interested in learning about health-related issues to help me expand my knowledge."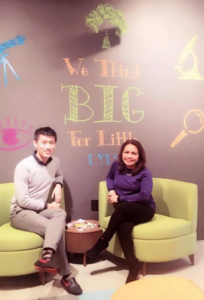 Dr. Chan gave Jocelyn a tour of our offices as he explained the unique opportunity for DC Area parents to finally treat their children's myopia instead of just getting them stronger corrective lenses each year. Jocelyn, like many of the parents we speak with, was surprised to learn that the types of treatment protocols we apply here at Treehouse Eyes can actually slow and even stop myopia from progressing in the growing eyes of their children.
One of the most important things we do for parents of kids with myopia is educate them about the myopia epidemic, the rising risks it presents for eye disease later in life, its suspected causes and, now, treatment options. From Jocelyn's excellent story in Hip Mamas Place, we recap for our readers some of the lifestyle tips Dr. Chan suggested for Jocelyn and other families to follow.
Have your child spend more time outdoors. Research supports that a minimum of 2-3 hours of outdoor time per day has some protective effect against myopia. Kids receiving myopia treatments, like those offered at Treehouse Eyes, do better when they are younger and have less myopia. Like many conditions, early treatment matters.
Limit screen time. Children spending more time on digital device screens (smart phones, tablets and games) may have a higher rate of myopia. Attempting to limit screen time is probably helpful.
Vitamin D. Vitamin D is produced by exposure to the sun. Lack of Vitamin D may play a role in the progression of myopia.
Reading posture. If your child reads in bed, laying on their back might be the best position to help minimize increasing myopia. To date, we are unsure why this helps, but it may.
We look forward to answering any questions you might have about myopia, its causes, risks and, most importantly, the types of treatment methods now available for you and your myopic child here at Treehouse Eyes.  Feel free to post your questions below or contact us at info@treehouseeyes.com and we'll be sure to get you the information you need to best ensure your kids will be able to enjoy better vision for life.
PS If you don't already, we invite you to join us for more conversation and community on our Facebook page here. Thanks.