Among the savvy patient families who are making appointments for their children's Treehouse Eyes assessments using their "use it or lose it" Flexible Spending Accounts, Sandie Angulo Chen brought her two kids in last week to our Bethesda office.
Like many first time visitors, Sandie quickly realized this what not like any other vision center she or children had visited before. Here's her describing her visit on the DC Moms website where she's editor in chief, "The first thing my two youngest kids (ages 8 and 12) and I noticed at Treehouse Eyes is the personal welcome we received. Their names were up on a whiteboard, and the waiting room invites fidgety kids of all ages to play puzzles and games until it's time for our doctor to see them."
Sandie's very personal blog post includes her reminiscing about her own struggle to see well in school, waiting to get her vision tested until her frustration with thinking angel's wings were bunny ears in a painting from her senior year art history class became too much!  We include the image from her blog post below — see for yourself how a poor nearsighted kid in the back of a class might make he same mistake!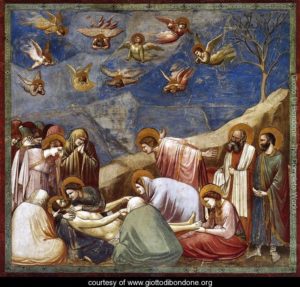 Sandie closes her post with advice to all local DC area parents to make appointments for their child's assessment at Treehouse Eyes before the end of the year when many families  have leftover "use it or lose it" FSA/HSA money to spend.
From the article, we include this helpful checklist for you to tell whether your child is a good candidate for the full Treehouse Eyes vision screening  –
If your child wears glasses
If your child is nearsighted (When glasses off, blurry at distance)
If parents are nearsighted
If child failed school vision screening
If child is on computer screen over 1-2 hours per day

If parents are concerned about decreasing vision of the child
We look forward to seeing you here soon – and please feel free to use the comments below to ask us anything, and to share this article and Sandie's post too, with other parents concerned for their children's vision health.